If there is one thing almost everyone knows about it's the 90s comedy sitcom, Friends. I've been watching Friends since… I guess, forever, and I still cannot have a proper meal without watching it– you could call me a die-hard fan. After many years in of constantly watching the series, the storyline, jokes or main characters were left behind and I started to analyse aspects I've never thought of before.
Friends tells the story of 6 ordinary, young adults in their 20s, struggling to accumulate the right skills required to find a job that they're both good at and enjoy. The most impressive progression comes from the 'ditzy and spoilt' fashion icon, Rachel Green. Starting out as a young girl riddled with daddy issues who works in a coffee shop, she turns into an ambitious woman working for one of the biggest fashion labels in the city.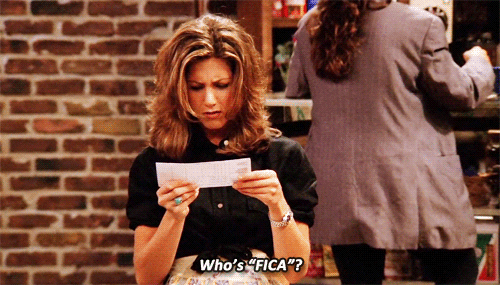 Start from the bottom of the bottom
The rich Rachel Green decides to change her life by cutting her dad's credit cards and getting a real job as a waitress. Whilst dreaming of working in fashion, Rachel takes the path of raising some money as she searches for a fashion opening. Our Long Island girl took baby steps to get to her Ralph Lauren job and made her way by serving coffee and cleaning tables. She hated it and she was indeed a terrible waitress. Even in her first fashion job, Jennifer Aniston's character still pours the coffee.
The first three seasons of Friends (when she works in Central Perk coffee house) reminds me that having jobs that you don't see yourself working in five years just for the sake of money in your pocket is actually alright. If you want to build a strong career on your own, without the help of parents or acquaintances, you have to be aware that your ideal job isn't around the corner; it might actually be further away than you think – how does three years sound?
It takes time and lots of patience, but you'll figure out that working hard for your own money pays off – it makes you more responsible and gradually all your savings will add up.
Make sure you love your job
Lesson learnt: hating your job makes you miserable! No matter what people say, I personally don't believe you can live two lives – one at your workplace and one at home – and that inevitably they'll end up impacting one another.
Rachel Green proved my argument: disliking her job not only made her an extremely bad waitress, but she was constantly worried about her future and life progress. Rachel was kind of stuck in second gear, if you ask me. Although you're not working in your dream industry, make sure you go there with pleasure even if it is just to entertain your colleagues.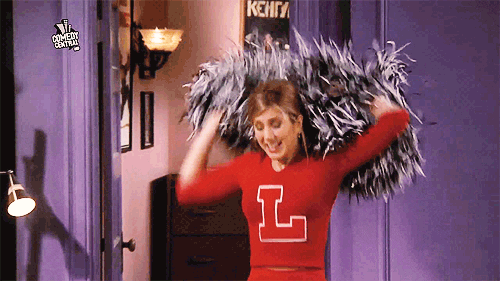 Don't let a temporary job ruin your entire life and positivity. Regardless of how hard you try, you'll bring your work home and your private life could be negatively influenced by a bored 'I'm useless' attitude you develop at the workplace. Be confident you'll get there someday, but for now, make the best out of it and enjoy every single moment.
It's okay to screw over an interview
Rachel's first attempt to get into the fashion industry was an interview at Saks Fifth Avenue. Despite her expectations, she did not get the job. It felt like the end of the world for some time, but she powerfully rose from the ashes, keeping her integrity in tact.
Losing one battle doesn't mean losing the war. You're allowed to fuck up interviews, especially if you're at the very beginning of your career, with little preparation and interview skills. You just have to make sure you learn from your mistakes, move on, and get better and better. Don't let a moment of failure impact your ambition.
If you feel being interviewed is not your strong point, seek advice and do your homework so you turn up prepared. While being tested by Phoebe (that's close to professional), Rachel realised that even a hand shake is a gesture that counts when being interviewed.
All of this being said of course, Rachel did also teach us that kissing your potential future boss is not alright, but we all know that, don't we?
Photo credits: CNBC