There's nothing worse than returning to work or college after a summer break and being asked "What did you get up to over summer?", only to be forced to reply with "Nothing", "Not much", "Nada", "Nil"...You get the point!
These are simply different ways to say the same thing - 'My summer was boring'.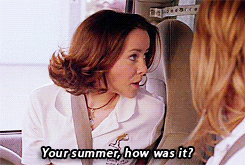 And with so much pressure on millennials now to be 'living our best life', which involves freedom, travel and (yes, you guess it) money, it seems harder than ever to enjoy a summer break that is on part with those of our peers.
According to the Telegraph, millennials spend £150bn globally on tourism each year.
Just think about some of the Instagram posts of our friends sightseeing in Thailand.
Compared to the adventures of our peers, #travelphotography of a beach down in Cornwall just isn't going to cut it.
If you're not holidaying in Bali or visiting far off places, you'll struggle socially too.
Not only can a dull summer dampen our spirits and leave us deflated, it can dump us right at the bottom of the social pile.
With use of platforms like Facebook and Instagram at an all-time high. There is so much pressure on millennials to live a more lavish life.
But with increased student fees, cost of living and housing, how do we budget for a blowout summer holiday?
Unfortunately, in order to enjoy ourselves over summer and avoid a personal crisis, we do need to spend a bit of money. You could be the most 'fun' person in the world and still have a dull summer if you don't delve into your pockets from time to time.
That said, we don't need to spend all our lifetime savings on one summer holiday.
In fact, getting the balance right between spending enough money to enjoy ourselves, without splashing out so much cash we end up skint, makes for the perfect break.
Loot.io are determined to eliminate the risk of boring summers. Here are 5 last-minute saving tips to enjoy a blowout summer holiday:
1 Buy essentials in bulk
Start buying the non-perishable home essentials in bulk now and put your savings into a separate summer savings account.
By home essentials we mean items like; cereal, tea, coffee, toilet roll, washing up liquid, laundry detergent, alcohol (yes, don't worry you can still enjoy your favourite tipple while saving money) and the list goes on...
When you compare price per item, often buying in bulk can save money in the long-term. Particularly when you buy the item while it is on special offer.
Don't think that buying in bulk is practical? Why not do a bulk order online?
Often supermarkets offer a money off voucher when you spend a certain amount on their online store.
One large online order of bulk goods, with a percentage taken off the overall price, is bound to save you money in comparison to numerous trips to the local store or premium priced goods.
2 Prioritise cost over convenience
Move over coffee-on-the-go and convenience sandwiches. Instead, make up your lunch in the morning (perhaps use leftovers from the night before) and make a flask of tea.
It's great to be able to pop into a shop and buy a grab-and-go snack, however, you end up quite literally paying the price.
Convenience alone can pay a large part in blowing your summer holiday budget.
Try cutting out convenience purchases for a week and see how much you save. We're pretty sure you won't go back to a daily on-the-go coffee and packaged baguette when you see the potential saving.
3 Minimise monthly subscriptions
Do you really need unlimited data for your phone? Could you reduce it just slightly to make a saving? Can you delete your Netflix subscription or at least opt for a cheaper option?
Think about your monthly outgoings and how much you can reduce your bills to make a saving for summer.
4 Use vouchers
If you want to go our for dinner with friends in the lead up to summer but still want to save, why not make the most of vouchers? Signing up to VoucherCodes is a great way of getting current vouchers straight into your inbox.
Really want to buy that irresistible pair of shoes? You may get a voucher for the store.
It's simple. Avoid impulse buying and use vouchers.
5 Keep your goal in mind
Whether you are saving to visit a far flung destination this summer or would like to go to Glastonbury, remind yourself of what you are saving for on a daily basis.

Photo by Marvin Meyer / Unsplash
Perhaps set an image of your destination as your phone background, or as the cover of your #LootGoal, for example.
Keeping the summer goal in mind is a sure-fire way of keeping you motivated when it comes to saving for it.
With the Loot digital current account, you can set daily and weekly budgets to make managing your money more practical.
The money you save by avoiding takeaway coffees, bulk-buying essentials and reducing subscriptions can be moved straight over to your summer #LootGoals.
Want to make saving for summer simple? Then sign-up for a Loot digital current account and start managing your money now.
There's still a few months to go to transform your summer savings.