Every now and again, I'll make a new male acquaintance, and everything will be going well until he drops this disappointing and problematic compliment: "girls never usually make me laugh, but you're actually so funny???". Before you get the wrong idea, I'm not trying to humblebrag. I'm by no means the funniest person in any room, but somehow, I keep hearing this opinion come up over and over. Why do so many men my age still hold this strange, outdated belief that women on the whole aren't funny like men?
Frankly, it's mad that something as subjective as humour can have such a widespread bias. To understand this phenomenon, Psychologists and Sociologists have been collecting data to determine its validity. And sure enough, in 2011, the Intelligence Study concluded that gender doesn't really have any effect on somebody's overall capacity to make humour, but rather it affects a person's confidence and outright ballsiness. "Men make more jokes overall, both funny and lame. In other words, men make more attempts at humour, so they are successful more of the time", says Gil Greengross, an Evolutionary Psychologist with Aberystwyth University, and author of the study.
If women don't have confidence in their own ability to be comedic, there will be, and certainly is, a lack of representation of female comedians in Film and TV, with Strudel finding that 80.1% of comedians on all UK panel shows in 2017 were men - that's even including Loose Women.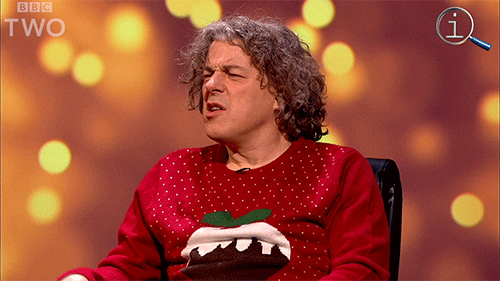 Arguably, this lack is harming the national consciousness. We rarely see funny lady stand-ups on our screens, and we're rarely given big parts in sitcoms - Women are still being held back by a rich world of comedic material by writer rooms that churn out male-led shows with female characters that feel like mere tokens (see The Smurfette Principle).Take Penny in The Big Bang Theory, Sophie in Peep Show or Carly in The Inbetweeners. Rarely do they get the big laugh-out-loud punchlines, because their roles exist solely to progress the storylines of the male protagonists. They don't have the screen-time to have crazy, outrageous plots of their own.
And yes, there's never been a better time to be a female comic, as women-led shows are seeing unprecedented levels of success: take for example, the cleverly-written Broad City, a show made by and about two female friends in New York City. But, as Claire Felton points out in her Huffington Post article, these shows still face criticism and skepticism, purely because they're written by women. When writers and stars Abbi Jacobson and Ilana Glazer appeared on The Jimmy Kimmel Show in 2015, Kimmel had a paternal, concerned outlook on their comedy: "I would be worried... if you were my daughters, I'd be like, uh, is this real life or did you cook this up, I hope, in the comedy room?". Seems like an innocent enough question, but it's utterly ridiculous when you imagine it being asked to two emerging male comedians, like a young Mitchell and Webb.
It's no wonder women aren't seen as being funny if we aren't allowed to make the same jokes. When women perform offensive and politically incorrect material, audiences read it with a different set of expectations, and usually don't find it as funny. But if we don't expect women to be able to make the same jokes as men, we inherently lack the potential to be as funny. Humour by its nature is about breaking social codes of conduct, and successful sitcom protagonists tend to be insensitive, stupid, non-self-aware and rude: think about Homer Simpson or David Brent.
It's so important to the progression of women in Comedy that female characters are written to break society's expectation of being the more composed and honorable sex, and to encourage audiences to laugh at women for their real capacity for immorality as much as they laugh at men. As long as writers continue to write three-dimensional female characters (See Dee in It's Always Sunny in Philadelphia, or BBC comedy Fleabag) who are outrageous, immoral and irreverent enough to break social cues, funny women will get the necessary exposure to destroy the glass ceiling of comedy.
Photo Credits: Favim | Giphy